Apparently, James Bond writers are having a hard time coming up with their next plotline because real life is more far-fetched, so I've got an idea for them:
Pussy Grabber.
We begin in 1989 USSR. Then-president Mikhail Gorbachev is ushering in the end the Cold War with the U.S. through a series of liberal reforms.
Members of the KGB who don't side with this new world view are purged. That is, except one calculating young spy with a penchant for shirtless horseback riding.
He fronts allegiance to the new order, while devising a long-game revenge plot in retaliation for making his homeland appear weak—total nuclear annihilation of the U.S..
At the same time, a younger James Bond is frequenting Soviet-friendly parties in bloc countries to turn new assets under the new alias, Christopher Steele.
While on a trip to the now former Yugoslavia, he spots a beautiful 19-year-old in a café, coyly flipping through her modeling book with an older, rich yet unattractive agency owner from the States.
He overhears her perfect Russian when speaking to the waiter, then her native Slovene, then English, as she tells her older friend she's fluent in five languages.
He catches her eye at the café, and of course takes her back to his hotel room, but this time, recognizing her clear ability to detach and get what she wants from unattractive older men, and he decides to make her his protégé.
Over the next 10 years, as she develops an international modeling career and emigrates stateside, Bond keeps a close eye on Horseback Rider and inserts her in key secret Soviet functions to inspire Horseback Rider to turn her into a Russian spy.
Through the 90s, she's made into a Russian mole for MI6, and at the dawn of the new millennium, as Horseback Rider re-gains power, she helps him hatch his greatest plan yet: install his new best operative in the White House.
When he learns of this, Bond agrees, deciding with the model that a certain New York developer who mistakes social climbing for business acumen, with an id so large he'll never see through the plan, is chosen.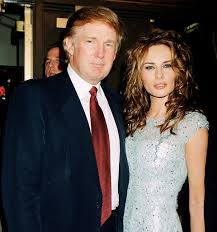 The model is dropped at certain New York City social events through the late 90s. Shirtless Horseback Rider thinks she's there to influence and turn Pussy Grabber into an asset.
Bond and model's goals are to consolidate power through her status-obsessed new boyfriend.
She knows Pussy Grabber's weakness: a woman he can control so he feels more powerful. She plays the mail-order bride role to a T. Pussy Grabber proposes.
From the moment they wed, she sows the seeds for his presidential run, for what else does a status-obsessed social climber desire most, but the presidency.
She encourages the side-girl theatrics and even leaks a few, so ultimately she isn't obliged to have sex with him as often—and it distracts the public.
The day of the election, she's almost frozen with fear, as the whole world's eyes are upon her. The Jackie O touch is almost too studied, but luckily Pussy Grabber's daughter steals some of the spotlight.
As Pussy Grabber takes office, she encourages his closer ties to Shirtless Horseback Rider, suggesting it will make him even more powerful, though he doesn't realize Horseback Rider's real plan; to gain the football and codes and then turn our missiles against us in our own country.
She alternates between playing nurturing mother he never had; telling Pussy Grabber that the world is against him. Because it actually is. Then sexy vixen, as she encourages him to show off that he has the codes; he's a big man.
She continues to provide intel to Horseback Rider, aided by co-conspirators Conspiracy-Theorist General and Chief of Staff, who fool Pussy Grabber into thinking they're on his side.
As they're set to meet in the WH tunnels for the drop-off, Bond goes underground heading toward Russia.
As Shirtless Horseback Rider thinks he's becoming ever closer to winning the Cold War he long ago began; there's another thing coming. MI6 knows every piece of the plan. The leaked 25-page dossier was just the beginning.
Chief of staff has "revealed" the plan to the vice president and house speaker, convincing both separately that they will assume presidency when the codes are dropped and they play the hero by "thwarting" the plan.
Model steals the football while Pussy Grabber falls asleep, turns on her hot mic, then meets the general, chief of staff, VP and Speaker in the tunnels, then calls Horseback Rider to drop the codes. She begins. Sadly they spell out B.i.g. H.a.n.d.s.
But just as Shirtless Horseback rider is about to send the directive on the first nuke, model turns on FB live from her secret wifi-embedded diamond earrings, getting the Chief of Staff to admit he was playing the general, VP, Speaker, and Horseback rider and the real goal was to unleash mass chaos, starting with his ex-wife's house.
As they're all outed to the world, Bond, who's now on the ground in Russia, punches Horseback Rider between his beady eyes, immobilizing him, and he's taken away to Siberian prison by fellow agents on the ground, never to be heard from again.
Bond, of course, we find out, has been directed by Moneypenny all along—the real Moneypenny….another longtime MI6 spy, code name White Lion, who we come to find out, has been playing the game since the early 70s, spying on Shirtless Horseback Rider while as First Lady in the 90s, then as Secretary of State, then through her highly charged presidential run, knowing exactly how it would play out, thanks to some well-timed help from her best pal, the head of FBI…
Because this was always her ultimate goal: dismount Shirtless Rider for good, win the Cold War forever, out the entire crooked obstructionist GOP to the world, then—corrupt path completely cleared—become first female POTUS and start doing some real good.
Because you know, White Lion is the ultimate chess queen.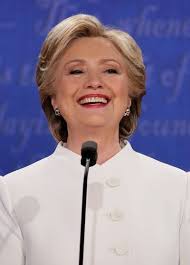 And BTW, of course, she had an affair with Bond while at Yale, and has never forgotten that he—unlike 42—knows that a good man goes down first.
World War 3 narrowly avoided, Bond meets model double agent at the White House helicopter pad, taking off into the sunset. "A smart man knows a pussy grabbed will always scratch back…but a pussy stroked will stay loyal forever…" They both laugh, because this is, after all, the ultimate truth.
The End.